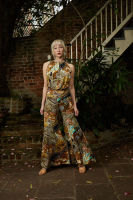 This jumpsuit is such a special piece, besides being absolutely stunning it is as comfortable as pajamas. It can be worn to a black tie wedding or to a party on the beach and everyplace in between. A real show stopper! Made in USA. Woman/Misses sizing.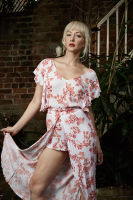 This is an unusual design that's adorable. This is a romper with a slit skirt to the waistline to flash a little leg. Very feminine with roses and ruffles and an easy wrap design. Soft, light and sexy. Woman/Misses sizing.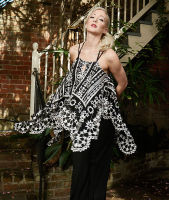 This sexy, stunning handkerchief hem halter is amazingly beautiful. Looks great with skirts, jeans, pants and leggings. A fun, flirty top that can be dressed up or down. Fully lined. Woman/Misses sizing.