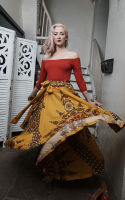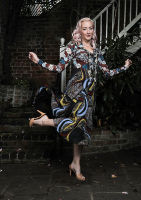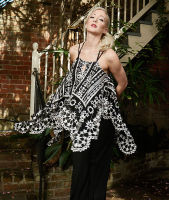 YELLOW GYPSY HI-LO SKIRT & ROGIANI BOLD SHOULDER TOP
This sexy, stunning handkerchief hem halter is amazingly beautiful. Looks great with skirts, jeans, pants and leggings. A fun, flirty top that can be dressed up or down. Fully lined. Woman/Misses sizing.
This beautiful maxi dress is a work of art. It is made with two different patterns of fabric and contrasting but blending colors. The neckline is embroidered with lace, bric-a-brac and a beautiful line of 16 buttons to the waist. The bodice is fitted and the long skirt has a gentle flare. You will feel beautiful and feminine in this dress. Woman/Misses sizing.
This gorgeous skirt has a hi-lo hemline with sizing in the hem which gives the skirt body and flare.  Match it with the Rogiani bold shoulder top in red or brown to complete the sexy look.